A well-known restaurant in Burlington, Ontario, has succumbed to the COVID-19 epidemic, and as a result, the establishment has shuttered its doors permanently.
On its website, the Stone House Restaurant in Burlington, Vermont, which was known for serving steak and seafood with a European Mediterranean twist, including gourmet pizzas and pasta, made the shocking announcement that it would be closing abruptly.
According to the text of the statement, "Unfortunately, owing to the COVID-19 epidemic and its ensuing consequences, we have been forced to permanently close Stone House Restaurant. We would like to extend our gratitude to our customers for the support and commitment they have shown to us over the past decade."
The Stone House Restaurant was well-known and well-liked in Burlington and the surrounding region, getting 4.3 stars from close to 700 Google reviews and generating more than 4,500 followers on Facebook. The business was located in a highly prominent place near to the Queen Elizabeth Way.
Customers on social media and people who worked in the area near the eatery have expressed surprise at the announcement. Many of these customers have stated that they were looking forward to the Stone House Restaurant reopening.
Stone House Restaurant: Retrospective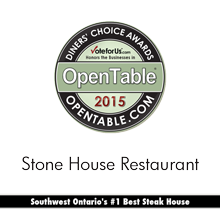 The Stone House Restaurant was known for its exquisite steak and seafood prepared in a Mediterranean style. The restaurant also served a variety of Mediterranean-inspired delicacies, including gourmet pizzas with thin crusts and pasta dishes. The restaurant served a variety of mouthwatering entrées in addition to a variety of seafood selections.
When visiting Stone House Restaurant, you had to be sure to spare space for one of their exquisite desserts that used to be created from scratch in the restaurant.
The Private Room had seating for up to 32 people and was equipped with a flat-screen television that had a hookup for a laptop, making it ideal for giving presentations.
Lake House Restaurant, the Stone House Restaurant's sibling, can be found directly on the water's edge of Lake Ontario at the QEW's Victoria Avenue exit. Lake House Restaurant is a must-try when vacationing in the Niagara region.